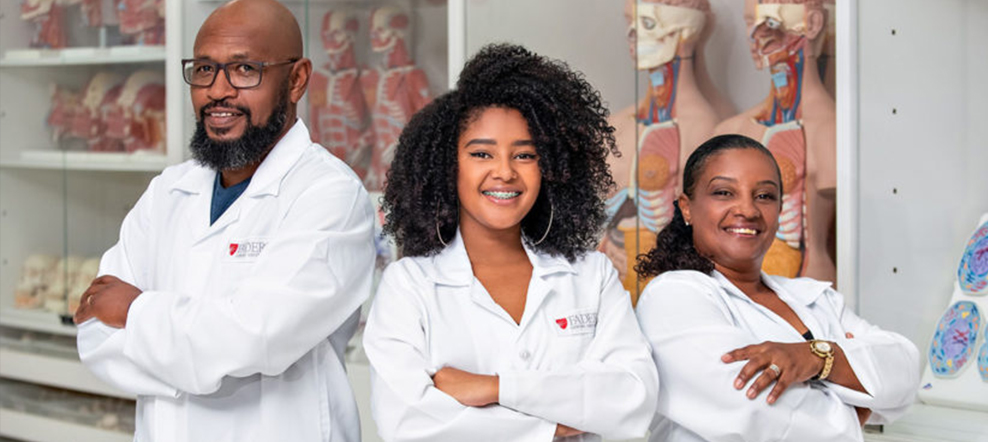 Succeeding isn't all about saying yes. It's about challenging ideas. Debating. Growing. At Laureate, you'll face healthy, vibrant discussion around every corner. You'll also have a chance to reinvent the world of education. We're all here to learn. What can you bring to the table?
At Laureate, we offer our students a wealth of educational programs that span the arts, sciences and humanities. Through these programs, we also continue to change the world of education, and touch lives around the world. Explore our academic programs and see how we're expanding access to higher education.
Art, Architecture and Design (Global Art & Design)
Laureate's Design Universities extend from Italy to India, from New Mexico to New Zealand. We offer programs in art, architecture and design at more than 30 institutions in 17 countries. This provides international opportunities for our faculty and staff to exchange ideas and grow their careers.
You'll work alongside top architects, artists, filmmakers and designers as you show our next generation of students the potential of a career in the creative arts.
Our institutions include:
Santa Fe University of Art and Design
Domus Academy
Nuova Accademia di Belle Arti Milano (NABA)
NewSchool of Architecture and Design
Universidade Anhembi Morumbi
Universidad del Valle de México
Media Design School
Pearl Academy
Business & Management
This is our largest field of study and includes more than 250,000 students, and more than 50 Laureate network institutions offer programs in business and management through campus-based and online institutions. Our faculty and staff include leaders in business and education, and if you want to impact the lives of our students and the world, you can join us.
Many Laureate network institutions are highly respected, including Business School Sao Paulo, which was recognized among the top graduate business schools in Brazil and Latin America by QS Top MBA.
Communications
Around the world, more than 35,000 students are enrolled in our communications programs. They'll look to you, as a member of our faculty and staff, to guide their development, share your experiences, and show them the places a career in communications can take them.
Many communications programs at Laureate network institutions earned accreditation in recognition of their quality and outcomes. Notable recognitions include the advertising degree program at UNITEC Honduras, and the communications and journalism programs at Universidad Peruana de Ciencias Aplicadas.
Education
There's a worldwide shortage of skilled teachers and university faculty. In the U.S., a recent study by the American Association for Employment in Education reported teacher shortages in more than half of the fields surveyed. UNESCO reports that the market for preprimary, primary and secondary education worldwide expanded by more than 142 million students between 1999 and 2006. This resulted in a demand for an additional 7.4 million teachers.
Laureate Centers of Excellence in Education are meeting that demand with innovative curricula, experienced faculty and campus-based and online learning options. As a member of our faculty and staff, you can help us meet this need, and work with the more than 49,000 students who are pursuing degrees in education at Laureate Centers of Excellence in Education around the world.
Engineering & IT - Science, Technology and Research
We have more than 140,000 students enrolled in engineering and information technology, and our faculty and staff include leaders in engineering and education. As we continue to redefine education, your new ideas about teaching, engineering and the world will guide your development and the development of each student.
Today, many Laureate institutions are among the top in their respective countries in these important fields of study.
The University of Petroleum Studies is the only university in India to have its oil and power courses accredited by the Energy Institute.
Health Sciences
We are one of the world's largest providers of postsecondary programs in the health sciences, with more than 30 Laureate institutions in 16 countries and online delivering these programs. Our faculty and staff are key to delivering these programs, and to touching the lives of students around the world.
In Spain, we partnered with the soccer franchise, Real Madrid, to create the Real Madrid International School, specializing in health, leisure and sports management. Laureate's Centers of Excellence in medicine and health sciences are also active in health sciences research.
We also have a real commitment to our local communities as more than 150,000 patients have received free or low-cost treatment from our community clinics.
Hospitality - Hospitality Management and Culinary Arts (Global Hospitality)
As part of our faculty and staff, you'll be able to both learn from and teach the top minds in hospitality.
Highly rated Laureate institutions include:
Blue Mountains International Hotel Management School of Torrens University

(Australia) -

Recipient of the Gold Award at the New South Wales Tourism Awards and the Tourism and Education Award at the Qantas Australian Tourism Awards.

Kendall College

(United States) -

The number one culinary arts program in the Chicago area (Michelin Guide chefs) and the number one hospitality management program by top hotel managers in Chicago.
Laureate institutions are the world's largest provider of hospitality management education and are a steady source of well-trained professionals for the world's top hospitality brands.
Law & Legal Studies
Laureate has nearly 50,000 students globally enrolled in law and legal studies. These programs are delivered by 30 Laureate network institutions. As part of our faculty and staff, you'll also provide our students with supervised, hands-on experience through law clinics that have delivered services to tens of thousands of members of communities around the world.
The law programs at UniRitter and Universidade Salvador in Brazil have been recognized as among the best in Brazil by the Brazilian Bar Association.