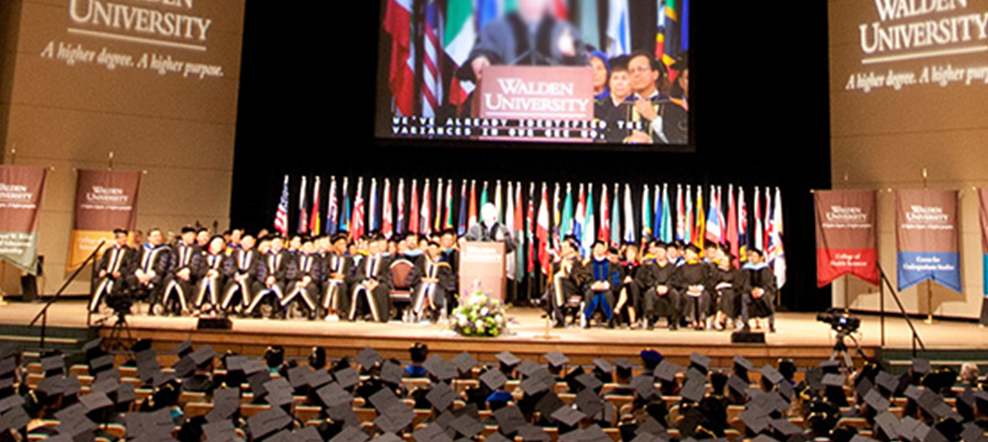 PT Faculty - School of Nursing - MSN CBE Program (Virtual)
---
APPLY NOW
Job ID 49240BR
Date posted 04/01/2021
Institution Walden University
City Virtual
As Walden grows, we continue its tradition of quality. Walden's School of Nursing seeks nursing faculty for MSN programs (MSN core courses, Nursing Education, Nurse Executive, and Nursing Informatics) within the Competency Based Education (CBE) curriculum with part-time commitments. Share your professional experience and academic knowledge with students across the country and around the world. With a computer and a high-speed Internet connection, you can teach on your own schedule while maintaining other professional and personal commitments.
GENERAL SUMMARY:
Tempo Learning faculty subject matter experts (faculty SMEs) are student-facing faculty roles. Faculty SMEs are faculty members assigned to one or more competencies based on their subject matter expertise. The core responsibility of faculty SMEs is to serve as the central academic content support for Tempo Learning students.
Faculty subject matter expert primary responsibilities, key metrics and suggested practices in Walden's competency-based education:
Work directly with students to assist with any questions or challenges they may have in acquiring the necessary knowledge and skills needed to demonstrate proficiency in each competency.

Initiate regular and substantive academic engagement with each student as they work through each competency for which the SME has responsibility. Additionally, the faculty SME is required to document the substance of all student academic engagement in the student's record.

Hold weekly office hours as well as conduct synchronous webinars.

Pose and promptly respond to student questions through frequent discussion board sessions in the learning platform, as well as respond to individual student emails on academic content.

Use detailed rubrics to validate the student assessment as demonstrating competency.

Use corrective feedback sparingly, emphasizing positive feedback that encourages good work and invites learners to make revisions toward excellence.

Leverage available learning and behavioral analytics to track student engagement on a weekly basis and identify students who require more immediate intervention.

Assure curriculum quality. Faculty SME's play a crucial role in the development, review, and ongoing improvement of the CBE curriculum.

Establish regular and structured contact with students; initiate contact with students, even when they do not expect it, with a message of caring and attentiveness to the individual.

Develop sensitivity to cultural differences that influence communication and understanding.

Exercise patience and tolerance and assume good intent on the part of learners.

Develop a repertoire of online discussion catalysts in your subject area to stimulate and drive engagement.

Encourage students to take risks, to explore, and to learn from their mistakes, thereby facilitating their self-empowerment.

Create an atmosphere of mutual respect while engaging students in the learning endeavors.

Monitor all students' work for academic integrity.

Regularly review competency content and recommend updates to resource links or other materials as necessary
What to expect as a Walden faculty member:
Faculty members educate Walden University students by effectively and proficiently using online technology and resources so that knowledge, information, feedback, and critique are imparted to and shared with students in thoughtful, carefully formulated, well written, and timely communications. This is accomplished in an environment that is respectful of student, the Faculty Member, Walden University, and the discipline in which the Faculty Member is involved. Faculty Members are expected to adhere to all Walden University Faculty expectations, which are clearly set forth to the Faculty Member at the start of his/her employment with the University.
Course Teaching/Availability:
Faculty Members are assigned to specific competency modules—individual modules taught using the Tempo Learning platform—as faculty subject matter experts (SME). Faculty SME's are responsible for collaborating with Academic Coaches and other faculty colleagues and interacting with students within the context of specific assigned CBE module.
Discussion Boards and a variety of online, self-directed activities within the virtual classrooms are open 24 hours per day, 7 days per week. Although work assignments and competency assessment work products may be done at any time of day, they must be completed in a timely manner in accordance with the Faculty Handbook or other criteria established by Walden University. As such, Faculty Members in the CBE curriculum are expected to be flexible and prepared to respond to student inquiries within 48 hours and return assessments with feedback within 72 hours. In addition, CBE Faculty SME's will publish their availability to students in the Tempo Learning platform. The university suggests regular and predictable availability, such as online office hours or regular online chats.
Technology Requirements:
Faculty members are required to have an adequate computer to handle an electronic learning platform, keyboard, pointing device, and computer monitor. All other tools are knowledge-based or training-based through Walden University. The Faculty Member must be able to use Microsoft Office products (Word/Excel/PowerPoint), zip software, and Adobe Acrobat and must have reliable Internet access as well as alternate access in cases where primary access becomes unavailable.
Licensing/Certification:
Faculty Members must be appropriately credentialed, possess an earned degree from an accredited institution or recognized by a country's ministry of education in the discipline being taught, and may be expected to be licensed or license-eligible in order to teach in specific programs. Faculty Members must maintain their licenses and any appropriate certifications in order to continue to teach at Walden University. Faculty Members are also expected to maintain currency with research by reviewing articles, journals, and presentations. If participating in research, the Faculty Member may publish and acknowledge Walden University.
EDUCATION and/or EXPERIENCE:
The successful candidate will:
Earned Masters in Nursing (MSN) AND an earned Doctorate (preferably in Nursing) from an accredited institution, with demonstrated coursework in one of the three specializations: nursing education, nursing informatics or nurse executive.
Candidates should possess a record of professional scholarly contributions to the field of nursing, preferably in one of the three specializations (nursing education, nurse Executive, nursing Informatics).
A minimum of two years experience teaching graduate courses in one of the three specialty areas (nursing education, nurse executive, and nursing informatics) or related content.
Commitment to advocating for the learning and development needs of students earning their degrees in a distance learning environment.
Experience with distance learning preferred.
Evidence of current RN licensure in one of the 50 states in the US required.
Excellent communication, team, and human-relations skills.
Certification in area of specialty is preferred (Nurse Education, Nursing Informatics, or Nurse Executive).
WORK ENVIRONMENT:
Work is performed primarily in a standard office environment, but may involve exposure to moderate noise levels. Work involves operation of personal computer equipment for six to eight hours daily and includes physical demands associated with a traditional office setting (e.g., walking, standing, communicating, and other physical functions as necessary).
Equal Employment Opportunity
Our goal is to have a diverse workforce that is representative of our students and our communities. Laureate is an equal opportunity employer committed to hiring based upon merit. Individuals will be considered for positions for which they meet the minimum qualifications and are able to perform with or without reasonable accommodations. We do not discriminate on the basis of sex, race, color, religion, age, national origin, physical or mental disability, pregnancy, genetic information, sexual orientation, gender identity or expression, veteran status, or any other status protected under federal, state, or local law. Pursuant to Title IX of the Education Amendments of 1972, Walden University is required not to discriminate on the basis of sex in its educational program or activities, and does not do so. This prohibition extends to admissions and employment. For more information on Walden University's Title IX policy, including the application of Title IX, please click here.
APPLY NOW