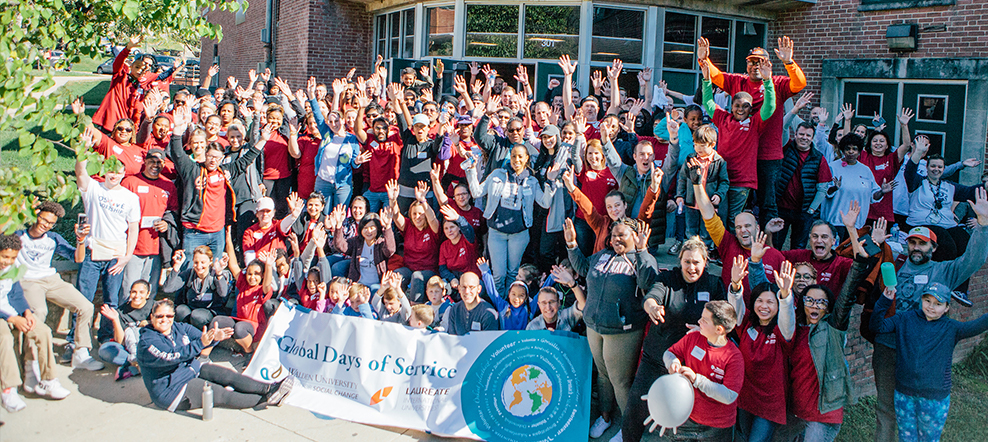 Yes, we're a global network of universities. We're also much more. Every day, our professionals, teachers, students, and alumni touch societies around the world. We change lives. We make a difference. We also know that we're just getting started. At Laureate, today is the beginning of everything.
Senior Manager, Cloud Operations
---
APPLY NOW
Job ID 42760BR
Date posted 07/09/2019
Institution Laureate Education, Inc.
City Baltimore
The Senior Manager of Cloud Operations is responsible for delivery of cloud-hosted services. Reporting to the Director of IT Operations, this position will manage cloud-based initiatives with direct oversight of the projects, operations, and procedures required. Responsibility for availability and performance of cloud-based systems will be the core of this role. Collaboration with the Security teams to ensure security of the environment is critical. Leadership in optimizing the efficient delivery of solutions will be an essential component of the role.
Day to day operational oversight will include direct management of the Cloud operations team that is responsible for providing engineering support and implementation services. In addition to being focused on day to day service delivery, ensuring compliance to best practices and legal and industry standards (i.e. ISO27001, SOC 2) is a key requirement of this position. Development and maintenance of documented procedures is a significant function of this role.
Areas of technical responsibility include:
Data Center Operations
ITIL-based Service Delivery
Service Availability and Performance
Standard report generation and distribution
Automation
Monitoring and Alerting
Change Management
Cloud Engineering and operations
Managing costs within budget
Asset management
Responsibilities
Ensure that the core mission of availability, security, and performance drives team activities
Oversee the operations of our infrastructure team managing an extensive containerized AWS/Azure/OCI environment
Ensure that management is actively informed of hosted/cloud operational activities.
Develop infrastructure strategy and structure that enables innovation and seeks to leverage technology trends that can create business value consistent with the company's requirements and expectations
Support end-to-end systems infrastructure design, capacity planning and performance management, identifying opportunities for automation, cost savings, and service quality improvement
Work with other internal groups to develop, disseminate, and maintain best practices in support of operational excellence and standards compliance
Partner with colleagues to drive infrastructure operations and cloud initiatives
Work closely with multi-team technical resources and stakeholders to ensure systems function and that outages are dealt with rapidly and effectively
Identify, implement and monitor Key Performance Indicators (KPIs) to ensure alignment with both client and internal SLA's and to raise the bar on current performance metrics and stakeholder/customer satisfaction
Drive continuous improvement and introduction of 'best practices' into all areas of process, metrics, and performance
Proactively establish and maintain positive working relationships with all stakeholders, vendors and third party organizations
Serve as the cloud subject matter expert who provides strategy and architecture recommendations for the organization and leadership.
Oversee the cloud program from both a technical and non-technical perspective, managing a team of cloud engineers and their deliverables.
Develop and document the framework for technical standards within the cloud platform.
Coordinate with other IT teams in the environment to bring about technical transformation and adoption of Cloud platform.
Propose cloud-related optimizations and best practices to improve reliability, performance and cost.
Create tools to automate repetitive tasks.
Keep abreast of Cloud computing trends and emerging technologies
8 years of experience required in the Information Technology field

3 years of experience leading Infrastructure or Data Center teams required
3 years of experience managing and developing technical team members

Leadership Skills: A self-starter who can excel in a team environment of an aggressively growing and dynamic enterprise. A nonpolitical team player who can build credibility with the leadership team and with all the IT personnel staff within the division and headquarters. It is essential that this individual can personally solve problems, coach others, step up and take decisive action to rectify any divergences and can work in a matrix environment.

Detail-oriented approach to work, highly organized, and effective communications skills in both an oral and written format.
Significant experience in solutioning, architecting, designing, migrating and operating a cloud environment.
AWS deployment and support knowledge required while other public cloud deployment knowledge a plus
Must have strong hands on data center and IT infrastructure architecture and design experience
Knowledge of network and access security a plus.
Must have solid experience with Linux/Unix variants.
Proven experience in IT infrastructure strategic planning and delivery
Demonstrated project management and delivery experience
Experience managing key vendor relationships with demonstrated benefits to the business through strong relationship management
Passion for automation
Experience managing a senior technical team
Demonstrated focus on continuous improvement and quality in IT delivery, support and compliance.
Experience with configuration management tools such as Ansible, Chef, Puppet.
Experience in incident and problem management including timely problem identification, successful resolution and root-cause analysis.
Is a strong self-starter, operationally-focused, has a holistic data perspective, is a problem-solver
Education and Training
Bachelor's Degree in an IT related field or comparable experience.
Equal Employment Opportunity
Our goal is to have a diverse workforce that is representative of our students and our communities. Laureate is an equal opportunity employer committed to hiring based upon merit. Individuals will be considered for positions for which they meet the minimum qualifications and are able to perform with or without reasonable accommodations. We do not discriminate on the basis of sex, race, color, religion, age, national origin, physical or mental disability, pregnancy, genetic information, sexual orientation, gender identity or expression, veteran status, or any other status protected under federal, state, or local law.
APPLY NOW