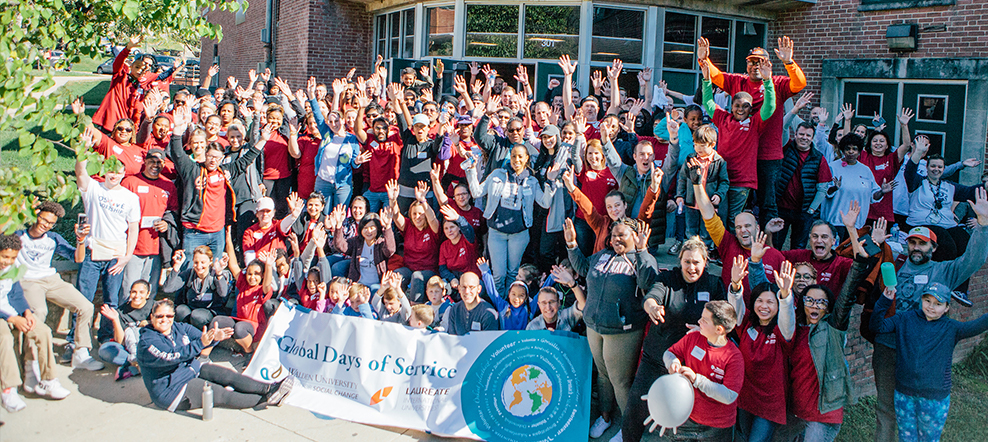 Yes, we're a global network of universities. We're also much more. Every day, our professionals, teachers, students, and alumni touch societies around the world. We change lives. We make a difference. We also know that we're just getting started. At Laureate, today is the beginning of everything.
Vice President, Technology Operations
---
APPLY NOW
Job ID 43013BR
Date posted 07/18/2019
Institution Laureate Education, Inc.
City Baltimore

The Technology & Operations Leader is responsible for infrastructure, administration and coordination of all data centers, systems and services needed to support technology functions across Laureate's network of institutions in all countries. The role also collaborates with technology brokers and external providers to understand new cloud services and integration technologies and their implications for Laureate.

Infrastructure services include Platform as a Service (PaaS), Application as a Service (SaaS), WAN Networking, Telecommunications, Desktop Engineering and Support Standards, and Disaster Recovery. Responsibilities include the oversight of Cloud operations, internal networks, middleware, personal computers and other end-user devices, telephone equipment, and the voice/data networks.

ESSENTIAL DUTIES AND RESPONSIBILITIES
· Lead Laureate's Technology & Operations function with strategic and technical thought leadership, and a strong focus on delivering an elevated institutional technology experience
· Participate in the strategic planning and evolution of the company's internal and outsourced infrastructure and service desk functions, defining business continuity requirements that are scalable to meet Laureate's future growth initiatives
· Direct the negotiation and ongoing management of service contracts (SLAs) for IT infrastructure services between business functions, Technology organizations and Technology suppliers
· Maintain strategic overview of company and countries' business priorities, and supporting IT requirements, and ensure that these are represented to IT suppliers as appropriate
· Build close working relationships with Internal Technology organizations (other vertical technology functions), in order to ensure that each country's IT infrastructure needs and issues are understood and align with business users
· Drive, create and launch a governance program that will increase governance awareness and reduce costs and risk.
· Responsible for ensuring the processes executed by technology service providers and strategic partners are effective and efficient with seamless integration
· Oversee the maintenance of computing and telecommunication infrastructure resilience, hosting environments for enterprise applications and security protocols, ensuring compliance with industry standards
· Align closely with the Security, Risk & Compliance function lead during the formulation of technology security policies to maintain the integrity of student, faculty and employee records / data housed by vendor-owned data centers and cloud hosting platforms
· Responsible to direct and develop IT disaster recovery strategies and solutions, including risk assessments, impact analyses, strategy selection, and documentation of IT business continuity and disaster recovery procedures
· Ensure proper communication delivery to management, end users, and cross-functional, cross-regional teams
· Introduce enabling technologies that help drive business value
· Foster a strong customer service mind-set throughout the IT team, while championing thought leadership and innovation as business partners;
· Search out and bring innovative, external best practice ideas to all areas of IT infrastructure, with a particular emphasis on agility, services, and virtualization
· Cultivate a deep bench of IT leadership and technical talent to deliver results and support future growth. Develop/recruit successor caliber talent for key leadership positions.
The ideal candidate will champion change throughout the technology organization, as well as the corporation, providing visible improvements and tangible returns on investments. This position requires a smart, assertive, energetic and results-driven leader who has the ability to succeed in a results-focused organization. The successful candidate possesses strong management and leadership skills combined with the ability to work effectively across all organizations within the company.
The ideal candidate will have a full understanding of how a world-class technology infrastructure organization leverages products, services, and strategies to assist the overall technology organization in optimizing service delivery, increasing efficiencies, and eliminating emergency and/or critical situations. They will possess an innovative and change-oriented personality that is tempered with just enough political savvy to achieve immediate business results.
The requirements listed below are representative of the knowledge, skill, and/or ability required. Incumbents will be evaluated, in part, based on performance of each essential function. Reasonable accommodations may be made to enable individuals with disabilities to perform essential functions.
Knowledgeable in state-of-the-art, cloud-based development, infrastructure, and performance technologies, products and solutions as well as industry best practices in private/public/hybrid cloud technologies
Extensive knowledge and expertise in project/program management, portfolio management methodologies and tools
Experience in large organization with high volume/high transaction environment
Global experience and teaming that has delivered world class results
Delivery IT strategies that are tied to business goals
Extensive knowledge and expertise in Service Management; ITIL
A visionary strategic thinker with the imagination and foresight to conceptualize new technological solutions and products that address the core business objectives
Entrepreneurial, with a natural curiosity to explore new ideas and assess changes in the ways competitors employ new technologies for potential advantage
Energetic, enthusiastic, results-oriented; capable of adding significant value to the existing management team and successfully implementing their ideas
A strong business leader with Management skills in building and motivating successful Technology services teams in a 24x7 environment
Superior communication skills with technical and non-technical senior management
The ability to build strong relationships with all divisions of the company and to ensure that technology effectively meets the needs of its users
Ability to team with, and manage, a strong partner/supplier system
Ability to overcome the complexities involved in changing processes and implementing new technologies, and the resulting impact on people and the organization.
EDUCATION and/or EXPERIENCE

Master's degree in Information Technology, Computer Science, or a related field.
At least 10-15 years' experience in technology leadership position
Fluency in English is required. Fluency in Portuguese and Spanish is strongly preferred.
Equal Employment Opportunity
Our goal is to have a diverse workforce that is representative of our students and our communities. Laureate is an equal opportunity employer committed to hiring based upon merit. Individuals will be considered for positions for which they meet the minimum qualifications and are able to perform with or without reasonable accommodations. We do not discriminate on the basis of sex, race, color, religion, age, national origin, physical or mental disability, pregnancy, genetic information, sexual orientation, gender identity or expression, veteran status, or any other status protected under federal, state, or local law.
APPLY NOW