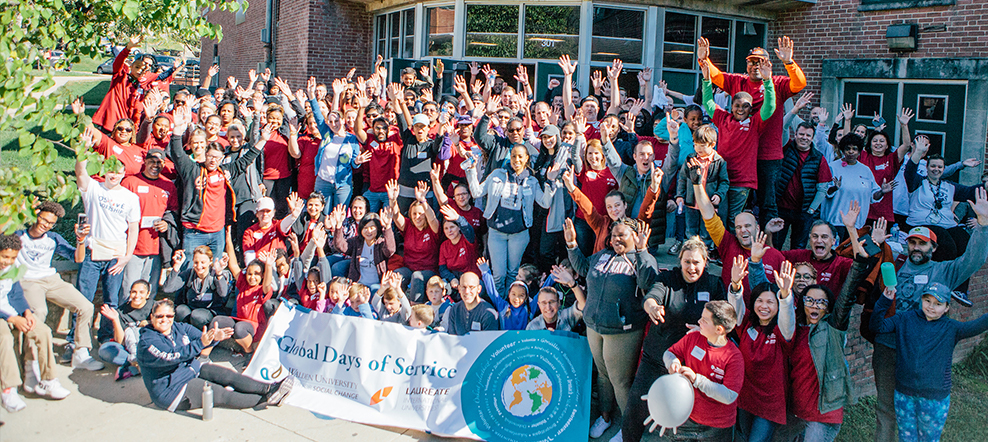 Yes, we're a global network of universities. We're also much more. Every day, our professionals, teachers, students, and alumni touch societies around the world. We change lives. We make a difference. We also know that we're just getting started. At Laureate, today is the beginning of everything.
Junior Data Analyst
---
APPLY NOW
Job ID 43268BR
Date posted 08/22/2019
Institution Laureate Education, Inc.
City Columbia
WHO WE ARE LOOKING FOR IN A ENTRY LEVEL DATA ANALYST AT LAUREATE EDUCATION?
If you are relentlessly resourceful data ninja ready to solve important problems in Education and Ed-tech, then this is the job for you. Laureate Education is the largest global higher education provider and the largest corporation ever to become a Public Benefit Corporation (B Corp™). Here you will have the opportunity to create the future of analytics in Education and positively impact the students in the Laureate International Universities network.
WHAT WILL YOU DO AS A DATA ANALYST AT LAUREATE?
· You will turn data into information, information into insight and insight into business decisions
· You will identify, analyze, and interpret trends or patterns in complex data sets
· You will build a central meta-data repository and data/meta-data dictionaries
· Filter and "clean" data by reviewing computer reports, printouts, and performance indicators to locate and correct code problems
· You will collaborate with Product Owners, Functional Experts, Data Scientists and Software Developers to build, optimize and maintain the pipelines for critical operational and analytical applications.
· You will transform complex analytics into scalable, production-ready solutions.
· You will continuously integrate and ship code into data cloud production environments.
· You will acquire data from primary or secondary data sources and maintain databases/data systems
· You will support the needs of multiple teams, systems and products.
· You will conduct full lifecycle analysis to include requirements, activities and design. You will develop analysis and reporting capabilities and monitor performance and quality control plans to identify improvements.
· You will have exciting opportunities to build and optimize architecture to support our next generation of AI-centric initiatives.
· Work with Scaled Agile Scrum Teams to prioritize business and information needs
· Participate and provide required data analysis reports and data dictionary artifacts to build global single view of customer 360 database in Walden Data Cloud
· Locate and define new process improvement opportunities
· Learn and Implement innovative processes supporting end-to-end release activities across product development teams, with a focus on stages, gates, checkpoints and quality criteria.
· Identify, materialize and define the implementation of tools required support the meta-data platform
· Execute and improve procedures for validation of product, feature, and release readiness based on release criteria.
· Work collaboratively within cross-functional and intercultural teams based on strong team spirit, solid work ethic, and expert communication skills.
· Participate in regular team meetings involving stakeholders from development, business, support and management and articulate data quality expectations to meet milestones.
· Be the enforcer of data hygiene standards in all forms of communication.
HERE ARE THE KINDS OF SKILLS AND EXPERIENCES WE ARE SEEKING:
· Quantitative degree in Statistics, Mathematics, Computer Science, Engineering - Bachelors is good, Masters or above is better.
· Data analysis business data analyst skills
· Technical or strong Theoretical expertise regarding data models, database design development, data mining and segmentation techniques
· Strong knowledge of MATLAB, SAS, Python, SPSS, R, JAVA and Microsoft Office Suite
· Knowledge of statistics and experience using statistical packages for analyzing datasets (Excel, SPSS, SAS etc.)
· Strong analytical skills with the ability to collect, organize, analyze, and disseminate significant amounts of information with attention to detail and accuracy
· Adept at queries, report writing and presenting findings
· Ability to analyze large datasets
· An analytical mind and inclination for problem-solving
· Ability to write comprehensive reports
· Attention to detail
· Strong verbal and written communication skills
Bonus Points
· Experience or interested to work in Agile engineering practice environment
· Experience or interested in building a transformative cloud data product
Top performers will find that they have plenty of opportunity to grow and add value in this role. You will join a team that is pioneering delivery of data science in a Scaled Agile Framework (SAFe)®.
If your skills and interests agree with what you've read, we want to hear from you. Come create the future of analytics in Education with us.
Equal Employment Opportunity
Our goal is to have a diverse workforce that is representative of our students and our communities. Laureate is an equal opportunity employer committed to hiring based upon merit. Individuals will be considered for positions for which they meet the minimum qualifications and are able to perform with or without reasonable accommodations. We do not discriminate on the basis of sex, race, color, religion, age, national origin, physical or mental disability, pregnancy, genetic information, sexual orientation, gender identity or expression, veteran status, or any other status protected under federal, state, or local law.
APPLY NOW