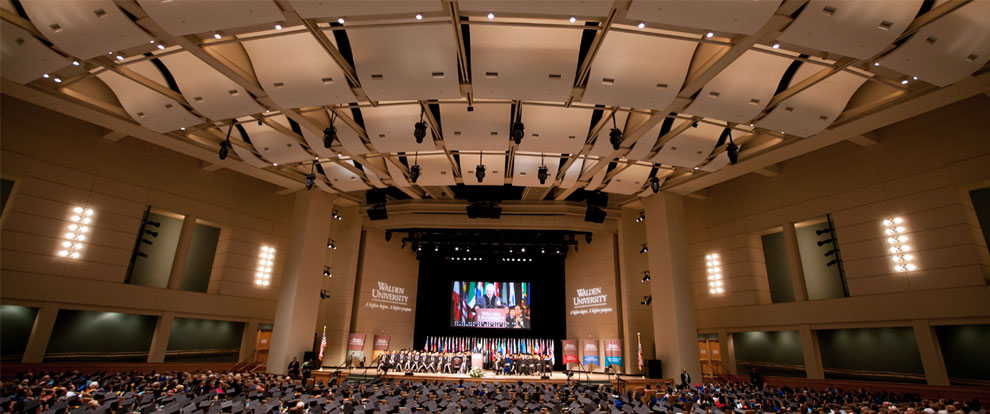 Walden University
Senior Director of Admissions
---
APPLY NOW
Job ID 42764BR
Date posted 08/21/2019
Institution Walden University
City Columbia
GENERAL
SUMMARY

:

The Senior Director of Admissions provides strategic leadership for the university Office of Admissions as well as a portfolio of services to include global transcript evaluation, document management, and the Center for Degree Acceleration. The Senior Director is responsible for the integrity of the admissions process, from the time an application is completed, to the time a student is admitted, and transfer of credit is awarded. The Director is also responsible for maintaining the quality of the student body through implementing university and school admissions policies in compliance with university and programmatic accreditors and represent best practices in the industry. The Senior Director will be a key member for short- and long-range strategic planning for the University and will be expected to recommend and implement innovation within Admissions Services functions.

**PLEASE NOTE THIS ROLE IS NOT RELATED TO RECRUITING OR SALES**
ESSENTIAL DUTIES AND RESPONSIBILITIES:
The Senior Director of Admissions, in conjunction with Academic Leadership, is responsible for designing and maintaining comprehensive admissions policies and procedures for certificate, degree and non-degree offerings through course based, competency based, and micro-learning modalities.

Develops transfer of credit policies in concert with Academic Leadership

Create a vision and strategic roadmap for transfer of credit innovation and/or efficiency and lead the cross functional working groups to implement the individual initiatives

Develop a strategic plan for expanding prior learning assessment offerings and developing policy regarding how these offerings articulate into the University Development of year over year admissions data and trends to be used for strategic planning and collaboration with Enrollment Management Represent the Office of Admissions in university governance processes which includes participation in university and programmatic accreditation visits

Collaborate closely with regulatory and compliance teams to ensure that state specific regulations are upheld within the

Maintains and nurtures effective communication and partnerships throughout the university by conferring with business units and university leaders on issues pertaining to the promotion and understanding of the Admissions Office

Designs, establishes and maintains an organizational structure and staffing to effectively accomplish the organization's goals and objects

Oversight of international credential evaluation services in alignment with institutional strategy

Partner with IT Leadership to create a strategic plan for assessing, planning and implementing document management technology and innovation

Recruits, employs, trains, supervises and evaluates staff

Financial accountability for managing annual budgets for Admissions Services and performs periodic cost and productivity analyses

Performs miscellaneous job-related duties as assigned


TECHNICAL, MANAGERIAL, and PEOPLE SKILLS REQUIRED
To perform this job successfully an individual must be able to perform each essential duty satisfactorily.The requirements listed below are representative of the knowledge, skill, and/or ability required.Incumbents will be evaluated, in part, based on performance of each essential function.Reasonable accommodations may be made to enable individuals with disabilities to perform essential functions.
EDUCATION and/or EXPERIENCE:
Master's degree in business, education, or related area is required, Graduate degree in student personnel administration highly valued.

10 years of higher education leadership required, preferably with at least 7 years specifically leading an Admissions organization

Previous experience as a Director of Admissions, or equivalent, at another institution of higher education strongly preferred

Experience implementing admissions policy amongst all levels (undergraduate, graduate, non-degree) and types of programs (licensure, non-licensure, completion, etc)

Knowledge of international admissions and credential evaluation practices preferred

Experience implementing transfer of credit policy with specific experience with prior learning credit and development of articulation agreements strongly desired

Successful managerial experience in admissions or related area is required with experience leading large, geographically dispersed teams strongly preferred

Ability to develop an admissions division with a balance of academic quality and integrity with student-customer focused services

Ability to think strategically, analyze critically and respond tactically

Experience in gap analysis and formation of strategic planning to mitigate gaps in policy or practice

Budget management experience strongly preferred

Proven ability to make sound decisions on sensitive issues or areas where policy might not be specific

Demonstrated ability to hire, supervise, train and develop staff

Knowledge of computerized student information systems

Previous experience

Ability to work in a fast-paced, changing environment

Strong customer service/student service skills in a fast-paced, changing environment required.

Excellent written communication, oral presentation skills and analytical skills are essential.
Equal Employment Opportunity
Our goal is to have a diverse workforce that is representative of our students and our communities. Laureate is an equal opportunity employer committed to hiring based upon merit. Individuals will be considered for positions for which they meet the minimum qualifications and are able to perform with or without reasonable accommodations. We do not discriminate on the basis of sex, race, color, religion, age, national origin, physical or mental disability, pregnancy, genetic information, sexual orientation, gender identity or expression, veteran status, or any other status protected under federal, state, or local law.
APPLY NOW