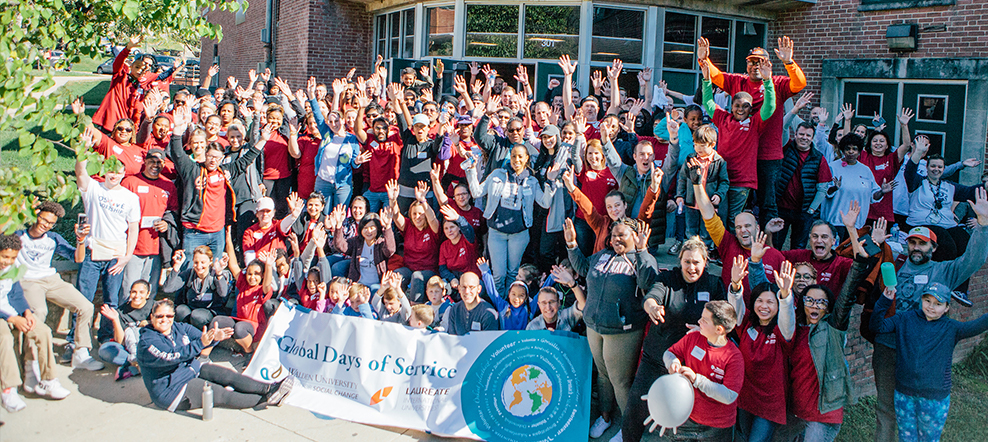 Yes, we're a global network of universities. We're also much more. Every day, our professionals, teachers, students, and alumni touch societies around the world. We change lives. We make a difference. We also know that we're just getting started. At Laureate, today is the beginning of everything.
Senior Scrum Master
---
APPLY NOW
Job ID 43277BR
Date posted 08/15/2019
Institution Laureate Education, Inc.
City Columbia
The Senior Scrum Master is accountable for leading and coordinating successful implementations of large-scale, enterprise-wide corporate and IT initiatives, driving rapid realization of the company's corporate strategic goals through initiative delivery and execution to meet needs and expectations of MVP customers and business partners. The individual will guide planning, collaboration, reporting and execution activities across multiple cross discipline teams. The Senior Scrum Master advises the Product Owners and Scrum Teams to apply, implement and enforce Scrum principles and practices, facilitating continuous improvement, and identifying and removing impediments to delivery. The Scrum Master will also help protect the team from outside influences, which could otherwise interfere with the team's ability to deliver value in a short time-box (iteration). This is a highly visible role that will continuously facilitate a team dynamic intended to maximize performance by continuously improving agile practices.
ESSENTIAL DUTIES AND RESPONSIBILITIES:
Servant Leader with a passion to help teams thrive and deliver high value to the organization.
Serve as Scrum Master for up to four Agile teams
Instruct and model core agile principles of collaboration, prioritization, team accountability and visibility.
Mentor and coach teams on how to deliver value quickly
Foster a motivating culture of openness, collaboration, and continuous improvement
Lead the coordination across other Agile teams for complex projects
Escalate and/or resolve impediments to help your team ship code
Leverage data to measure & monitor progress against commitments
Communicate Team progress to RTE & Executive Leadership
Manage all Scrum ceremonies, including Sprint Planning, daily Scrum Meetings, Sprint Reviews, and Sprint Retrospectives
Manage all inter- and intra- team communication
Calculate ongoing team capacity and velocity
Partner with the Product Management team on lightweight, living planning documents, like an Agile Product Roadmap.
Lead working session meetings to discuss scope, schedule and requirements with product owners
Drive the implementation of various agile techniques such as TDD, BDD, Automated Testing, Continuous Integration, Continuous Delivery, DevOps
Manage product quality, releases and delivery
Understand Executive Leaderships' metrics and accurately report progress, risks, successes, and failures

Create and maintain a close working relationship with the product owner, scrum team and other stake holders
To perform this job successfully an individual must be able to perform each essential duty satisfactorily. The requirements listed below are representative of the knowledge, skill, and/or ability required. Incumbents will be evaluated, in part, based on performance of each essential function. Reasonable accommodations may be made to enable individuals with disabilities to perform essential functions.
Undergraduate degree or equivalent experience
4+ years of Agile Project Management experience
4+ years of working with all aspects of the System Development Life Cycle
SAFe Agilest certification preferred
SAFe Advanced ScrumMaster certification preferred
CSM (Certified Scrum Master) or CST (Certified Scrum Trainer)with 4+ years of experience executing the Scrum Master role for a technology team
Proficient knowledge of Version One preferred
Good skills and knowledge of servant leadership, facilitation, situational awareness, conflict resolution, continual improvement, empowerment, and increasing transparency
Demonstrated ability to conform to shifting priorities, demands and timelines through analytical and problem-solving capabilities
Demonstrated leadership skills, initiative, and strong attention to detail.
Excellent oral, written and presentation skills
EDUCATION and/or EXPERIENCE:
BA/BS in Computer Science, related degree, or comparable experience

Certified in one or more of the following: PMI-Agile Certified Practitioner (PMI-ACP), Certified Scrum Master (CSM), SAFe Scrum Master (SSM), SAFe Advanced Scrum Master (SASM)
Equal Employment Opportunity
Our goal is to have a diverse workforce that is representative of our students and our communities. Laureate is an equal opportunity employer committed to hiring based upon merit. Individuals will be considered for positions for which they meet the minimum qualifications and are able to perform with or without reasonable accommodations. We do not discriminate on the basis of sex, race, color, religion, age, national origin, physical or mental disability, pregnancy, genetic information, sexual orientation, gender identity or expression, veteran status, or any other status protected under federal, state, or local law.
APPLY NOW