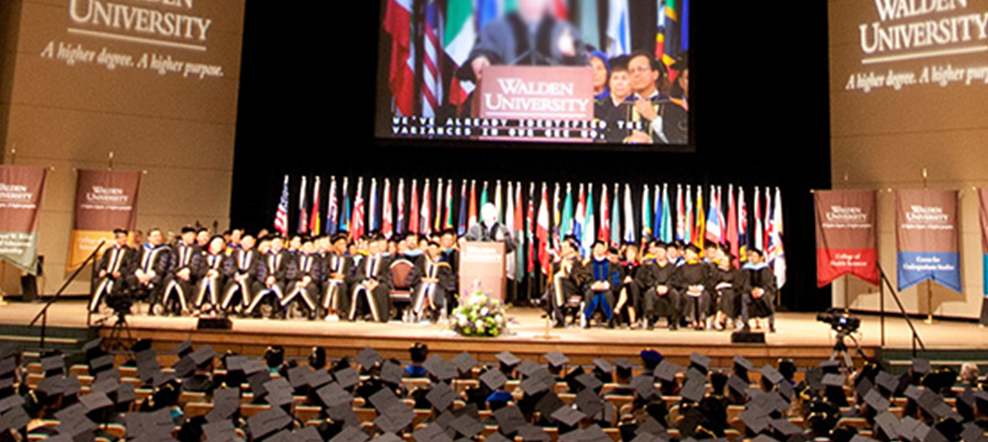 Academic Program Coordinator- Skills Development Coordinator (Virtual)
---
APPLY NOW
Job ID 51422BR
Date posted 06/08/2021
Institution Walden University
City Virtual
GENERAL SUMMARY:
Walden University is a pioneer in student-centered distance education. An accredited graduate institution with a mission for social change, Walden is dedicated to high academic standards and helping students make a difference in their professions, organizations and communities.
Walden University offers advanced degrees online to professionals whose work impacts others. Degree programs include health sciences, counseling, human services, management, psychology, education, public health, nursing, public administration, technology, and engineering. Our challenging programs are designed to help students make a difference in the lives of children, the health of communities, or the success of an organization.
The Skills Development Coordinator is a full-time faculty member who reports to the Director of Student Success and works closely with the relevant School and College academic advising and administrative staffs, and faculty to address a variety of academic and student issues.
ESSENTIAL DUTIES AND RESPONSIBILITIES:
Interact with program directors on skill development opportunities in their program including identifying possible skill develop options.

Provide guidance on the specific steps needed to implement the skills development requirement/option

Assist with developing rubrics to evaluate the effectiveness of the skill development option and align the option with program learning outcomes.

Managing administrative functions appropriate to their assignments

Mentoring of students in research for MS and PhD degrees, and undergraduate students (where applicable)

Participation in university and school residencies where appropriate to a program

Engagement in scholarship

Service on university and school committees and for school initiatives as needed
Student Affairs
Liaison for Program Director/ Assoc. Dean/Dean in code of conduct matters that escalate to Student Affairs and CAO.

Development of skills development tracks for students to meet professional requirements adhering to APA standards and Code of Ethics

Development of skill development remediation for students who are demonstrating gaps in skills

Development of skill development remediation for students who are terminated from sites

Development of skill development recommendation for students who consistently demonstrate a lack of skills and abilities to move forward with the program.
OTHER DUTIES AND RESPONSIBILITIES



May perform other duties and responsibilities that management may deem necessary from time to time.





TRAVEL REQUIREMENTS





Some travel could be required (minimally once per quarter)



TECHNICAL, MANAGERIAL, and PEOPLE SKILLS REQUIRED




To perform this job successfully an individual must be able to perform each essential duty satisfactorily. The requirements listed below are representative of the knowledge, skill, and/or ability required. Incumbents will be evaluated, in part, based on performance of each essential function. Appropriate reasonable accommodations may be made to enable individuals with disabilities to perform essential functions.



EDUCATION and/or EXPERIENCE:
Earned doctorate in the relevant discipline and area of Psychology

A significant record of intellectual and professional contributions to the field, including professional publications and conference presentations.

Three to five years teaching experience at the graduate or undergraduate level as appropriate to the program.

Commitment to advocating for the learning and development needs of students earning their degrees in a distance learning environment.

Supervising graduate and teaching assistant at the graduate level, or undergraduate level as appropriate.

Excellent leadership, communication, team participation, and human relation skills.

Experience with distance learning preferred.

Ability to mentor and motivate adult learners in a distance-education environment.

Ability to work with adult learners with variable skill levels, various learning styles as well as diverse cultural and professional backgrounds.




LICENSURE and/or CERTIFICATION





Faculty Members must be appropriately credentialed, possess an earned degree in the discipline being taught, and may be expected to be licensed or license-eligible in order to teach in specific programs. Faculty Members must maintain their licenses and any appropriate certifications in order to continue to teach at Walden University. Faculty Members are also expected to maintain currency with research by reviewing articles, journals, and presentations. If participating in research, the Faculty Member may publish and acknowledge Walden University.
Equal Employment Opportunity
Our goal is to have a diverse workforce that is representative of our students and our communities. Laureate is an equal opportunity employer committed to hiring based upon merit. Individuals will be considered for positions for which they meet the minimum qualifications and are able to perform with or without reasonable accommodations. We do not discriminate on the basis of sex, race, color, religion, age, national origin, physical or mental disability, pregnancy, genetic information, sexual orientation, gender identity or expression, veteran status, or any other status protected under federal, state, or local law. Pursuant to Title IX of the Education Amendments of 1972, Walden University is required not to discriminate on the basis of sex in its educational program or activities, and does not do so. This prohibition extends to admissions and employment. For more information on Walden University's Title IX policy, including the application of Title IX, please click here.
APPLY NOW