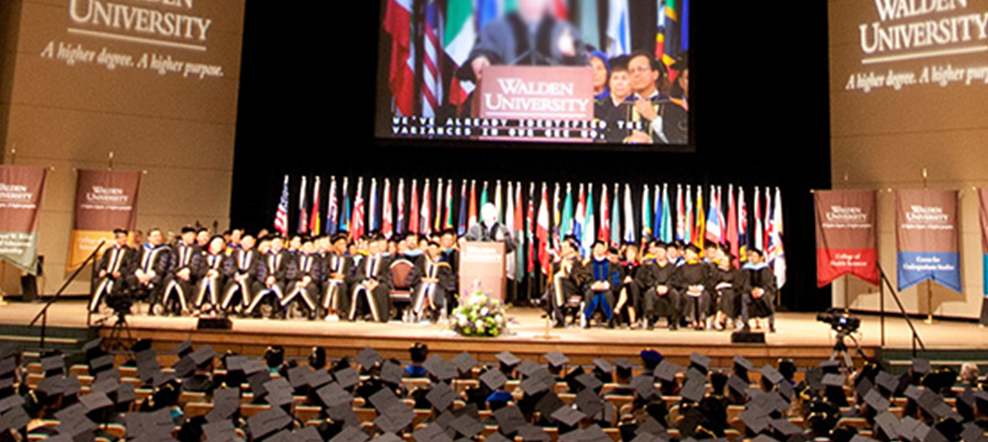 Enrollment Manager (Virtual)
---
APPLY NOW
Job ID 51476BR
Date posted 03/31/2021
Institution Walden University
City Virtual
Walden University, a Certified B Corporation® with 50 years of experience serving a diverse community of career professionals, is currently seeking a dynamic and engaging Enrollment Manager. As an Enrollment Manager, you are passionate about customer experience and team performance. Your competitive, self-motivated spirit will lead a team of Enrollment Specialists to exceed goals and provide a positive impact on the student journey. You will coach and develop your team to exceed expectations for prospective students and organizational goals. Student experience will be your core focus of everything you do, continuously finding opportunities to elevate student satisfaction and team productivity. As a leader within Recruitment, you'll contribute to a culture of collaboration, innovation and diversity.



ESSENTIAL DUTIES AND RESPONSIBILITIES:
Oversee functions related to enrollment management of the unit and broader University

Oversee unit staff including hiring, evaluating and training

Recommend process changes based on reports and analyses of enrollment trends

Prepare and present reports and analyses of enrollment trends

Serve as a liaison between senior management and staff

Build and maintain relationships with University stakeholders

Supervise and coordinate projects related to enrollment management of the unit and broader University

Oversee the evaluation of credentials for students' applications for admission per existing policies and criteria

Manage the day-to-day processes of team

Create a

workplace culture

that is consistent with the identified mission,

vision

, guiding principles, and

values

of the organization

Meet and exceed goals and key performance indicators as set by company objectives

Coach, mentor and develop team, i

ncluding overseeing new employee onboarding and providing career development planning

Provide effective ongoing performance feedback through employee recognition

and

performance management

Requires the ability to work a flexible schedule, weekends, and evenings to accommodate student, departmental and company's needs
OTHER DUTIES AND RESPONSIBILITIES
May perform other duties and responsibilities that management may deem necessary from time to time.



TECHNICAL, MANAGERIAL, and PEOPLE SKILLS REQUIRED




To perform this job successfully an individual must be able to perform each essential duty satisfactorily. The requirements listed below are representative of the knowledge, skill, and/or ability required. Incumbents will be evaluated, in part, based on performance of each essential function. Reasonable accommodations may be made to enable individuals with disabilities to perform essential functions.
EDUCATION and/or EXPERIENCE:
Bachelor's Degree required

Experience with managing teams

Minimum four years of relevant experience including sales and/or sales management. Previous higher education or relevant experience preferred

Experience with a customer relationship management platform is required, Salesforce experience preferred

Outstanding interpersonal relationship building and employee coaching and development skills.

Demonstrate successful verbal, written and interpersonal skills

Demonstrated ability to motive others

Demonstrate strong project management and effective time management skills with sense of urgency and ability to plan and prioritize daily activities

Demonstrated ability to adapt to change in a fast-paced environment while maintaining a positive attitude

Ability to

manage multiple tasks efficiently and effectively by meeting and exceeding quality standards

Demonstrate proven ability to think critically, problem solving and show good judgment

Must maintain confidential student data in line with the Laureate Code of Conduct and Business Ethics policies

Must comply with Walden code of business conduct and ethics policy in all professional activities
Equal Employment Opportunity
Our goal is to have a diverse workforce that is representative of our students and our communities. Laureate is an equal opportunity employer committed to hiring based upon merit. Individuals will be considered for positions for which they meet the minimum qualifications and are able to perform with or without reasonable accommodations. We do not discriminate on the basis of sex, race, color, religion, age, national origin, physical or mental disability, pregnancy, genetic information, sexual orientation, gender identity or expression, veteran status, or any other status protected under federal, state, or local law. Pursuant to Title IX of the Education Amendments of 1972, Walden University is required not to discriminate on the basis of sex in its educational program or activities, and does not do so. This prohibition extends to admissions and employment. For more information on Walden University's Title IX policy, including the application of Title IX, please click here.
APPLY NOW