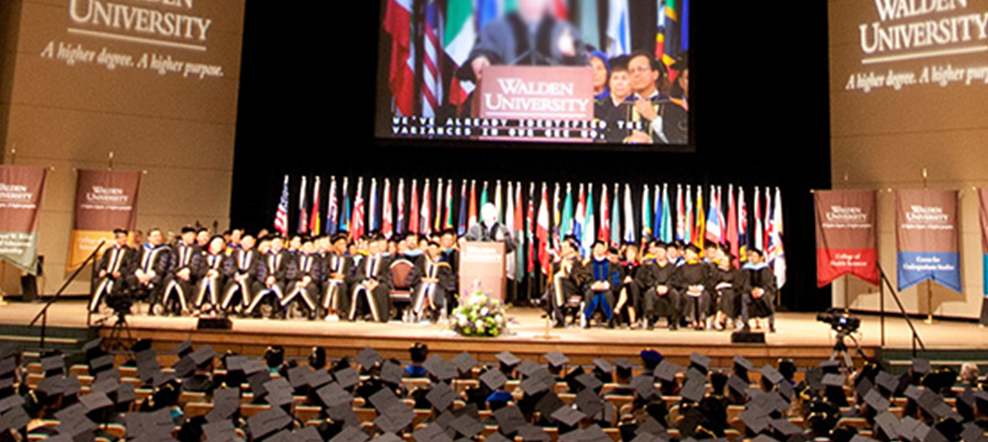 Walden University
Faculty PT- Developmental Psychology - Doctoral Committee (Virtual)
---
APPLY NOW
Job ID 50317BR
Date posted 02/22/2021
Institution Walden University
City Virtual
GENERAL SUMMARY:

Walden University seeks dynamic, engaged and supportive doctoral faculty research mentors that have strong communication and learning-relationship skills for this part-time position in the School of Psychology, PhD Developmental Psychology Program. Key responsibilities of this position are to mentor doctoral students through the dissertation process as a subject/content or research/methodology expert who may be either a chair or second member of dissertation committees, and to engage and support doctoral students as emerging scholar-practitioners.

What to expect as a Walden contributing faculty member:

Faculty members educate Walden University students by effectively using online technology and resources to provide an engaging and supportive student experience. Faculty members are expected to share their knowledge and give relevant, actionable feedback in carefully formulated timely communication to students. This is accomplished in a student-centric learning environment that is respectful, collaborative and follows Walden University and program specific guidelines.

General Expectations Include:


Supportive engagement at all times – build positive rapport, openness, trust, mutual inquiry and listening to students to help them learn, discover and apply research skills.
Effective online communications to maintain teaching and social presence and to stimulate
critical thinking and "learning to learn" skills.


Doctoral Student Research Mentoring





Faculty research mentors are assigned to work as part of a collaborative committee team and may work one-on-one with students to help them meet their research requirements.





Subject Matter/Content Expert



When a research mentor is the second member of a committee (not Chair), as subject matter/content expert, they are expected to engage, monitor, refine, and assess the progress of the capstone research from start to finish as the subject/content expert, and to provide

timely, actionable feedback, assessment, and evaluation of each student's work.





Doctoral Student Research Mentoring: Research Design & Methodology Expert



When a research mentor is the second member of a committee (not Chair), as research design and methodology expert, they are expected to engage, monitor, refine, and assess the progress of the capstone research from start to finish as the design and methods expert, and to provide

timely, relevant, actionable feedback, assessment, and evaluation of each student's work
Chair Responsibilities:
Faculty mentors who are who are assigned as Chair, are responsible for interacting with, and providing academic and professional guidance to, students on an ongoing basis within the learning platform. The chair is expected to ensure that their mentees have an approved term-plan each term, and that they engage and support students to foster quality work and progress; to respond to questions and comments in the course within 48 hours, and to engage students within the course a minimum of 4 days per week. Faculty Chairs are to provide grades and actionable, supportive feedback to students, and to assess final term plan progress.
Academic Credentials:
Doctoral Faculty Members must be appropriately credentialed, possess an earned degree from an accredited institution or recognized by a country's ministry of education in the discipline being taught.
EDUCATION and EXPERIENCE:
Candidates should possess:
An earned doctorate in the field of developmental psychology or a related field (required).

A record of scholarship, publication and research in methods and research design that is appropriate to support doctoral students in the field of study (required).

Strong relationship-building skills with students with diverse backgrounds.

Strong writing, research, and oral communication skills.

Experience in mentoring doctoral students in the dissertation process (preferred).

Three years of effective teaching experience at the degree level of program (preferred).

Online experience at the degree level of program (preferred.).

Experience in qualitative and mixed-method research (preferred).
Ideally, a candidate should be able to demonstrate:
Success at building effective student learning relationships that support mutual inquiry and doctoral quality student progress and learning outcomes.

Strong servant leadership dispositions. This includes the ability to listen carefully to students, and to be approachable and supportive within Walden's policies.

Strong time-management and co-project management skills.
Ideally, a candidate should be strongly committed to:
Supporting the development of Walden University students to foster positive social change as scholar-practitioners.

Best practices in teaching, research, advising and mentoring.

The ongoing professional development of themselves as faculty.

The willingness to perform other duties and responsibilities that management may deem necessary from time to time.



Training:





All new Faculty Members receive training with respect to best practices in online doctoral mentoring, effective supervision, and review of dissertations. They also receive socialization into the Walden University culture of quality, integrity, and student-learning centeredness and an orientation in their specific degree program.





Residencies:





Doctoral level faculty may be asked to participate in Residencies held domestically or internationally, where they may teach colloquia, lead writing-intensive workshops, and facilitate school-wide discussions.





Technology Proficiency/Requirements:





Faculty members are

expected to maintain a high level of technical proficiency, and have a strong commitment to learning new technologies. Faculty are

required to have computer and software resources that enable effective delivery of academic services to a disbursed community of learners. The Faculty Member must be able to use Microsoft Office products, and must have reliable Internet access as well as alternate access as needed.





TRAVEL:





Some travel may be requested.

Equal Employment Opportunity

Our goal is to have a diverse workforce that is representative of our students and our communities. Laureate is an equal opportunity employer committed to hiring based upon merit. Individuals will be considered for positions for which they meet the minimum qualifications and are able to perform with or without reasonable accommodations. We do not discriminate on the basis of sex, race, color, religion, age, national origin, physical or mental disability, pregnancy, genetic information, sexual orientation, gender identity or expression, veteran status, or any other status protected under federal, state, or local law. Pursuant to Title IX of the Education Amendments of 1972, Walden University is required not to discriminate on the basis of sex in its educational program or activities, and does not do so. This prohibition extends to admissions and employment. For more information on Walden University's Title IX policy, including the application of Title IX, please click here.
APPLY NOW