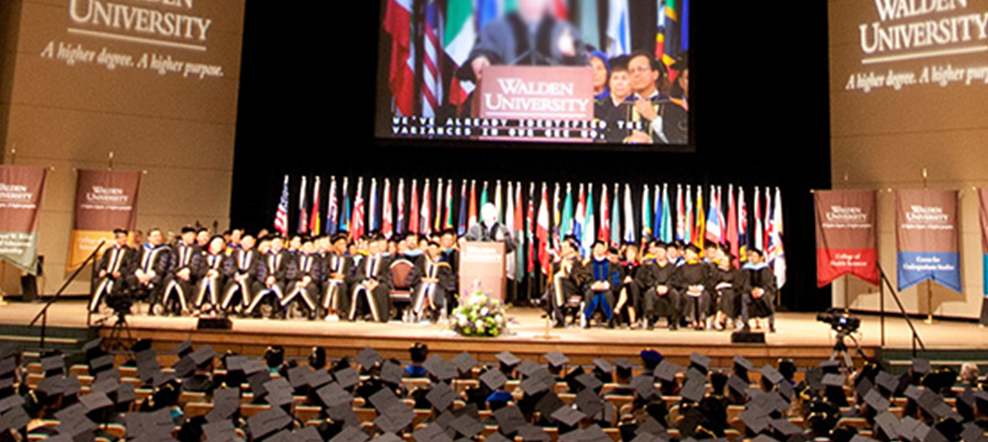 Walden University
Faculty PT- MPH/DrPH Public Health – Teaching and Mentoring – Virtual (Virtual)
---
APPLY NOW
Job ID 50208BR
Date posted 01/05/2021
Institution Walden University
City Virtual
Walden University is currently accepting applications for dynamic, innovative faculty with experience in the field of public health for part-time (contributing) faculty roles in the CEPH accredited MPH and Doctor of Public Health (DrPH) programs in the School of Health Sciences. The DrPH program is seeking qualified online teaching and doctoral mentoring faculty and may also include teaching face-to-face or virtual seminars at university academic residencies.
What to expect as a Walden faculty member
Contributing faculty members serve in a part-time capacity to educate Walden University students by effectively and proficiently using online technology and resources so that knowledge, information, feedback, and critique are imparted to and shared with students in thoughtful, carefully formulated, well written, and timely communications. This is accomplished in an environment that is respectful of students, the faculty member, Walden University, and the discipline. Faculty members are expected to adhere to all Walden University faculty expectations.
Roles and Responsibilities for Course Teaching
Faculty members are assigned courses which are already developed and are taught using the Blackboard platform. Instructors are responsible for interacting with students and completing grading within this platform. Discussion boards for classrooms, when present, are asynchronous and open 24 hours per day, 7 days per week. Faculty are expected to engage with students in a manner in accordance with the Faculty Handbook, Code of Conduct, and other criteria established by Walden University. Faculty members are expected to be in the classroom a minimum of 4 days per week and respond to student questions within 48 hours. Faculty members are required to adhere to the posted course rubrics and provide constructive, qualitative, and personalized feedback and grades to students through Blackboard within five days of the student due date. Where Discussion boards are present, faculty are required to engage with students and facilitate learning and discussion a minimum of 4 days per week according to program and university requirements.
Roles and Responsibilities for Doctoral Chair/Committee Membership
Mentoring is a major responsibility of faculty members who work with students completing the research requirements of their doctoral degrees. Faculty mentor involvement with students is a significant factor in student retention and students' success in their programs. Students' progress toward completion of degree requirements is regularly monitored by the university, as is the effectiveness of faculty mentors in supporting the progress by their mentees.
Committee chairs are expected to:
Accept specific mentoring assignments and maintain a minimum workload as determined by the school
Initiate and maintain frequent and regular interaction with students
Respond to student submissions with constructive written feedback in a timely fashion
Help students produce high-quality work through analyzing and synthesizing appropriate subject matter and/or by applying appropriate research methods and data analyses
Evaluate students' work related to their progress in achieving academic milestones and demonstrating standards of quality
Assist students in maintaining satisfactory academic progress toward timely completion of their degree programs
Advise students on the development of quarter plans.
Committee members are expected to:
• Work closely with the committee chair to help students advance in a timely manner
• Respond to student submissions with constructive written feedback in a timely fashion
• Help students produce high-quality work through analyzing and synthesizing appropriate subject matter and/or by applying appropriate research methods and data analyses.
Education and/or Experience
Earned doctorate in public health or closely related field from an accredited institution
Experience in the practice of public health
Record of scholarly activity (research or service) in public health
Evidence of compatibility with the Walden mission of positive social change, broad access, professional excellence, and our values of quality, integrity and student-centeredness
Ability to work with students who are experienced, mid-career professionals
Minimum of one year of teaching experience at the graduate level is preferred
Experience with distance learning/teaching preferred
Teaching
Faculty with teaching experience and expertise in one or more of the following areas are highly desired:
Biostatistics and SPSS
Epidemiology
Public health leadership and management
Health policy and advocacy
Public health economics and financing
Environmental/Occupational health
Global/International health
Program planning, implementation, and evaluation
Community health promotion and education
Informatics and surveillance systems
Quantitative and/or qualitative research design, methodology, and analysis
Equal Employment Opportunity
Our goal is to have a diverse workforce that is representative of our students and our communities. Laureate is an equal opportunity employer committed to hiring based upon merit. Individuals will be considered for positions for which they meet the minimum qualifications and are able to perform with or without reasonable accommodations. We do not discriminate on the basis of sex, race, color, religion, age, national origin, physical or mental disability, pregnancy, genetic information, sexual orientation, gender identity or expression, veteran status, or any other status protected under federal, state, or local law. Pursuant to Title IX of the Education Amendments of 1972, Walden University is required not to discriminate on the basis of sex in its educational program or activities, and does not do so. This prohibition extends to admissions and employment. For more information on Walden University's Title IX policy, including the application of Title IX, please click here.
APPLY NOW