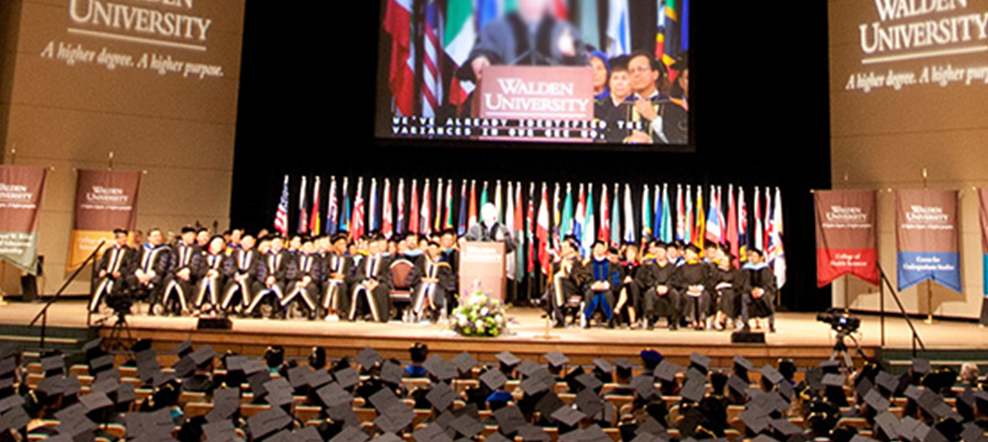 Faculty, PT - PhD Health Education and Promotion (Virtual)
---
APPLY NOW
Job ID 52002BR
Date posted 06/09/2021
Institution Walden University
City Virtual
The School of Health Sciences seeks part-time faculty to mentor dissertation committees for our Ph.D. Health Education and Promotion program. Applicants with secondary data experience are strongly encouraged to apply. Contributing faculty are primarily responsible for student research mentoring within the school's doctoral degree programs. Specifically, they will be required to serve on and/or chair dissertation committees, and will manage dissertation quality through service as a university research reviewer. These faculty members will report to the Academic Research Coordinator.

Primary duties and responsibilities include:

Chair dissertation committees

Serve as the second member of committees

Manage dissertation quality through service as a university research reviewer (URR).

Participation in university and school based residencies

Complete required faculty trainings
Roles and Responsibilities for Research Mentorship/Committee Membership
The Committee
Mentoring is a major responsibility of faculty members who work with students completing the research requirements of their doctoral degrees. Faculty mentor involvement with students is a significant factor in student retention and students' success in their programs. Students' progress toward completion of degree requirements is regularly monitored by the university, as is the effectiveness of faculty mentors in supporting this progress by their mentees.
The Committee Member's Responsibilities
Committee members are expected to:
Accept specific mentoring assignments and maintain a minimum workload as determined by the school or college.

Facilitate the intellectual and professional development of their assigned students by continuing mentoring support until each program requirement associated with the assigned mentoring role has been completed or has been assigned to another faculty mentor. (Student reassignment must be accepted and approved by the program director.)

Initiate and maintain frequent and regular interaction with students, at a minimum of twice per academic quarter (or more frequently as required by specific colleges or programs).

Help students produce high-quality work through analyzing and synthesizing appropriate subject matter and/or by applying appropriate research methods and data analyses.

Evaluate students' work related to their progress in achieving academic milestones and demonstrating standards of quality.

Assist students in maintaining satisfactory academic progress toward timely completion of their degree programs.

Personalize and monitor their sections of courses that support continuing research development:

Advise students on the development of quarter plans.

Training:
All new Faculty Members receive specific training from Walden University in the techniques of teaching, use of an electronic learning platform, specifics of the policies, procedures and degree programs of the School or College in which they are going to teach, socialization into the Walden University culture, assessment of academic integrity of student work (including use of www.turnitin.com), and research supervision of theses and dissertations.


EDUCATION and/or EXPERIENCE:

Doctoral degree in the field of Health Education or related field from an accredited university
Strong research methodology background in quantitative, qualitative and/or mixed methods.
A significant record of intellectual and professional contributions to the field of Health Education and Promotion or related field, including peer-reviewed publications and conference presentations.
Experience serving on doctoral dissertation committees is required; experience chairing is preferred.
Three to five years of independent research project mentoring is preferred.
Commitment to advocating for the learning and development needs of students earning their degrees in a distance learning environment; supervising student research preferred at the graduate level; commitment to the promotion of applied research that contributes to Walden's mission of contributing to positive social change; commitment to advocating for the learning and development needs of students earning their degrees in a distance learning environment.
Excellent leadership, communication, team, and human relation skills.
Experience with distance learning preferred.

Work Environment: Work is performed primarily in a standard office environment, but may involve exposure to moderate noise levels. Work involves operation of personal computer equipment for six to eight hours daily and includes physical demands associated with a traditional office setting, e.g., walking, standing, communicating, and other physical functions as necessary.

Residencies:
Faculty Members may attend Residencies which are held domestically or internationally, where they will teach intensives and colloquia, and facilitate school and university-wide discussions.

Tools/Technical Skills:
To perform this job successfully an individual must be able to perform each essential duty satisfactorily. The requirements listed are representative of the knowledge, skill, and/or ability required. Incumbents will be evaluated, in part, based on performance of each essential function. Reasonable accommodations may be made to enable individuals with disabilities to perform essential functions.

Technology Requirements:
Faculty members are required to have an adequate computer to handle an electronic learning platform, keyboard, pointing device, and computer monitor. All other tools are knowledge-based or training-based through Walden University. The Faculty Member must be able to use Microsoft Office products (MS Word, MS Excel, and MS PowerPoint), zip software, and Adobe Acrobat and must have reliable Internet access as well as alternate access in cases where primary access becomes unavailable.

Travel:
Some travel may be required to attend academic residencies, National Faculty meetings and/or commencement activities.
Equal Employment Opportunity
Our goal is to have a diverse workforce that is representative of our students and our communities. Laureate is an equal opportunity employer committed to hiring based upon merit. Individuals will be considered for positions for which they meet the minimum qualifications and are able to perform with or without reasonable accommodations. We do not discriminate on the basis of sex, race, color, religion, age, national origin, physical or mental disability, pregnancy, genetic information, sexual orientation, gender identity or expression, veteran status, or any other status protected under federal, state, or local law. Pursuant to Title IX of the Education Amendments of 1972, Walden University is required not to discriminate on the basis of sex in its educational program or activities, and does not do so. This prohibition extends to admissions and employment. For more information on Walden University's Title IX policy, including the application of Title IX, please click here.
APPLY NOW