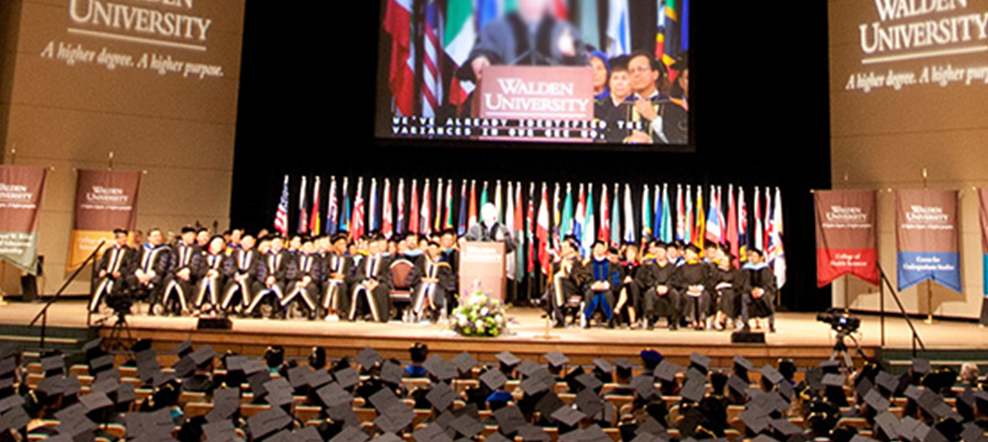 Faculty, PT - PhD Nursing Research (Virtual)
---
APPLY NOW
Job ID 44586BR
Date posted 04/05/2021
Institution Walden University
City Virtual
Walden University is an accredited institution that has been serving the higher education needs of professionals for more than 40 years. Offered online, Walden's doctoral, master's, and bachelor's degree programs are designed to help students achieve their goals so that, as graduates, they can help advance the lives of others.
As Walden grows, we continue its tradition of quality. School of Nursing seeks faculty for the PhD and DNP program. Share your professional experience and academic knowledge with students across the country and around the world. With a computer and a high-speed Internet connection, you can work on your own schedule while maintaining other professional and personal commitments.
GENERAL SUMMARY:
The School of Nursing seeks Contributing (Part-Time) faculty for the PhD and DNP program who are experienced Educational Researchers to fill part time academic faculty positions. These Contributing (Part-Time) academic faculty members will report to the Program Director and will work closely with Senior Research Leads and Mentors, Specialization Coordinators, academic advising, and administrative staff within the School of Nursing.
The Contributing (Part-time) Faculty will be invited to serve as chair and second members of doctoral study committees with the PhD and DNP programs. They may also be invited to serve as third committee member quality reviewers or to instruct courses in research methodology.
Responsibilities of this position include:
•Serve as committee chair, first or second member of doctoral project study committees
•May be asked to serve as University Research Reviewers
•Instruct methodology courses or modules when needed
•Participate in program and university based residencies
What to expect as a Walden faculty member:
Faculty members educate Walden University students by effectively and proficiently using online technology and resources so that knowledge, information, feedback, and critique are imparted to and shared with students in thoughtful, carefully formulated, well written, and timely communications. This is accomplished in an environment that is respectful of student, the Faculty Member, Walden University, and the discipline in which the Faculty Member is involved. Faculty Members are expected to adhere to all Walden University Faculty expectations, which are clearly set forth to the Faculty Member at the start of his/her employment with the University.

Training:
All new Faculty Members receive specific training from Walden University in the techniques of teaching, use of an electronic learning platform, specifics of the policies, procedures and degree programs of the School or College in which they are going to teach, socialization into the Walden University culture, assessment of academic integrity of student work (including use of
www.turnitin.com
), and research supervision of DNP doctoral scholarly projects and dissertations.
Committee Membership:
This position is primarily to serve on doctoral study committees. Committee chairs are assigned to committee-related courses and are expected to check and respond to student posts at least once each week.
Course Teaching/Availability:
Faculty Members are assigned a course, which is taught using the Blackboard platform, and are responsible for interacting with students within this platform. Discussion Boards for classrooms are open 24 hours per day, 7 days per week. Although postings to the classroom may be done at any time of day, they must be completed in a timely manner in accordance with the Faculty Handbook or other criteria established by Walden University. External Requirements As such, Faculty Members are expected to be in the classroom a minimum of 4 days per week and responses to student questions must be posted within 48 hours.
Licensing/Certification:
Faculty Members must be appropriately credentialed, possess an earned degree from an accredited institution or recognized by a country's ministry of education in the discipline being taught, and may be expected to be licensed or license-eligible in order to teach in specific programs. Faculty Members must maintain their licenses and any appropriate certifications in order to continue to teach at Walden University. Faculty Members are also expected to maintain currency with research by reviewing articles, journals, and presentations. If participating in research, the Faculty Member may publish and acknowledge Walden University.
Travel:
Some travel may be requested (maximally once per quarter).
Tools/Technical Skills:
To perform this job successfully an individual must be able to perform each essential duty satisfactorily. The requirements listed are representative of the knowledge, skill, and/or ability required. Incumbents will be evaluated, in part, based on performance of each essential function. Reasonable accommodations may be made to enable individuals with disabilities to perform essential functions.
EDUCATION and EXPERIENCE:
• Earned Master's degree in Nursing (MSN) AND an earned Doctorate (preferably in Nursing) from an accredited institution, with demonstrated coursework in one of the specialization areas: education, health care administration, public health policy, leadership/management, informatics.
• Expertise in areas as research/scholarship, theory, health care policy, project development, leadership, health care administration, etc. are essential to ensure a qualified, quality compliment of faculty in the program.
• Distinguished record of scholarship including externally funded research and peer reviewed publications in one of the specialization areas (Nursing education, Leadership, Public Health Policy, Health Care Administration ,Informatics).
• Minimum of two years experience teaching graduate courses in one of the specialty areas is preferred (Education, Leadership, Health Policy, or Health Care Administration informatics)
• Commitment to advocating for the learning and development needs of students earning their degrees in a distance learning environment; teaching, advising and mentoring.
• Experience serving on dissertation supervisory committees and/or doctoral level committees is preferred. Excellent communication, ability for teamwork, and human-relations skills is required.
• Evidence of current RN licensure in one of the 50 states in the US required.
• Experience with distance learning preferred.
Equal Employment Opportunity
Our goal is to have a diverse workforce that is representative of our students and our communities. Laureate is an equal opportunity employer committed to hiring based upon merit. Individuals will be considered for positions for which they meet the minimum qualifications and are able to perform with or without reasonable accommodations. We do not discriminate on the basis of sex, race, color, religion, age, national origin, physical or mental disability, pregnancy, genetic information, sexual orientation, gender identity or expression, veteran status, or any other status protected under federal, state, or local law. Pursuant to Title IX of the Education Amendments of 1972, Walden University is required not to discriminate on the basis of sex in its educational program or activities, and does not do so. This prohibition extends to admissions and employment. For more information on Walden University's Title IX policy, including the application of Title IX, please click here.
APPLY NOW