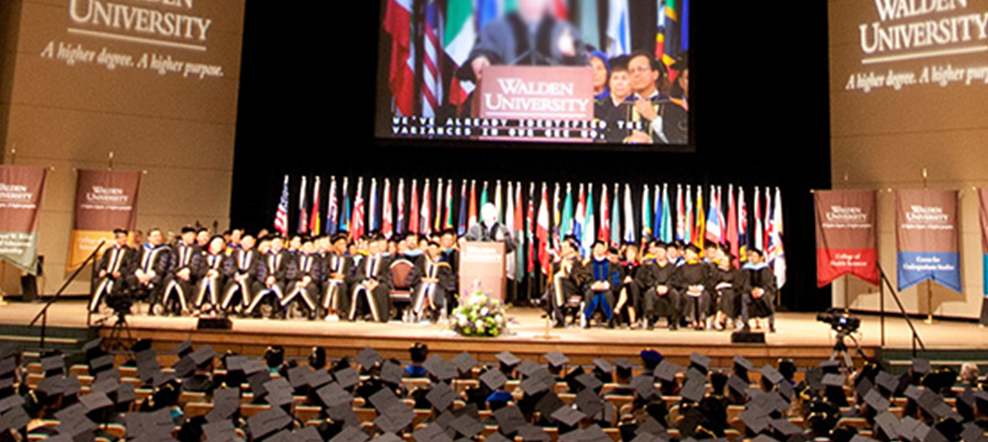 PT Methodologist, Dissertation Committee - College of Education (Virtual)
---
APPLY NOW
Job ID 51237BR
Date posted 04/19/2021
Institution Walden University
City Virtual
The Richard W. Riley College of Education and Leadership (COEL) seeks part-time faculty to serve as methodologist on dissertation committees for our Ed.D. and Ph.D. programs.
Contributing faculty are primarily responsible for student research mentoring within the school's doctoral degree programs. Specifically, they will be required to serve on and/or chair dissertation committees and might also manage dissertation quality through service as a university research reviewer. These faculty members will report to the Academic Research Coordinator or designee.
Primary duties and responsibilities include:
Serve as methodologist on doctoral committees in either the position of chair or second member.

Manage dissertation quality through service as a university research reviewer (if additionally selected to serve as URR).

Complete required faculty trainings
Roles and Responsibilities for Methodologist and URR Committee Membership
The Role of Methodology Expert
Provides feedback to student on the following:

Proposed research design including appropriateness for addressing the problem statement and research questions or for testing stated hypotheses
Selection of specific methodology
Selection of a sample of appropriate characteristics and size
Oversee implementation of the selected methodology, assuring compliance with the following:

Program/professional norms
Generally accepted ethical and moral principles regarding human subjects

Provides constructive criticism about the following:

Data collection and analysis
Presentation of the data and the conclusions drawn from the analyses
The Role of URR Members
The specific role of this committee member will be to collaborate with student, chair, and second member immediately prior to defense of proposal and prior to the final oral defense, and to perform a final review of the completed study to provide a consistent and reliable mechanism for quality management of student research including the following:
Insuring the maintenance of a high level of integrity in the research students' produce
Facilitating a level of consistency in the application of university research standards
Providing timely and substantive feedback that is within the defined scope of the URR member role:

The defined scope includes feedback related to theoretical, methodological, analytical, and organization content. URR members use the capstone rubric as their means for providing feedback on submissions.
The defined scope does not include minor form and style and ethical issues; however, URR members are instructed to alert students to such issues when they come across them. On occasion they may make mandatory referrals to the Writing Center or the Institutional Review Board for advice, on such issues.

Determining if the proposal or research study is ready for advancement to the next milestone in the process. URR member approval, expressed through scores and comments entered in the appropriate capstone rubric, will be a prerequisite for conducting oral defenses of the proposal and completed capstone, as well as for submitting the abstract to the CAO for final approval.
Training:
All new Faculty Members receive specific training from Walden University in the techniques of teaching/mentoring, use of an electronic learning platform, specifics of the policies, procedures and degree programs of the School or College in which they are going to teach/mentor, socialization into the Walden University culture, assessment of academic integrity of student work (including use of
www.turnitin.com
), and research supervision of theses and dissertations.
EDUCATION and/or EXPERIENCE:
Doctoral degree in the field of Education or related field from an accredited university
Strong research methodology background in quantitative, qualitative and/or mixed methods.
A significant record of intellectual and professional contributions to the field of Education or related field, including peer-reviewed publications and conference presentations.
Experience serving on doctoral dissertation committees is required.
Three to five years of independent research project mentoring is preferred.
Commitment to advocating for the learning and development needs of students earning their degrees in a distance learning environment; supervising student research preferred at the graduate level; commitment to the promotion of research that contributes to Walden's mission of contributing to positive social change; commitment to advocating for the learning and development needs of students earning their degrees in a distance learning environment.
Excellent leadership, communication, team, and human relation skills.
Experience with distance learning preferred.
Work Environment: Work is performed primarily in a standard office environment but may involve exposure to moderate noise levels. Work involves operation of personal computer equipment for six to eight hours daily and includes physical demands associated with a traditional office setting, e.g., walking, standing, communicating, and other physical functions as necessary.



Residencies:


Faculty Members may attend Residencies which are held domestically or internationally, where they will teach intensives and colloquia, and facilitate school and university-wide discussions.



Tools/Technical Skills:


To perform this job successfully an individual must be able to perform each essential duty satisfactorily. The requirements listed are representative of the knowledge, skill, and/or ability required. Incumbents will be evaluated, in part, based on performance of each essential function. Reasonable accommodations may be made to enable individuals with disabilities to perform essential functions.



Technology Requirements:


Faculty members are required to have an adequate computer to handle an electronic learning platform, keyboard, pointing device, and computer monitor. All other tools are knowledge-based or training-based through Walden University. The Faculty Member must be able to use Microsoft Office products (MS Word, MS Excel, and MS PowerPoint), zip software, and Adobe Acrobat and must have reliable Internet access as well as alternate access in cases where primary access becomes unavailable.



Travel

:
Some travel may be required to attend academic residencies, National Faculty meetings and/or commencement activities.
Equal Employment Opportunity
Our goal is to have a diverse workforce that is representative of our students and our communities. Laureate is an equal opportunity employer committed to hiring based upon merit. Individuals will be considered for positions for which they meet the minimum qualifications and are able to perform with or without reasonable accommodations. We do not discriminate on the basis of sex, race, color, religion, age, national origin, physical or mental disability, pregnancy, genetic information, sexual orientation, gender identity or expression, veteran status, or any other status protected under federal, state, or local law. Pursuant to Title IX of the Education Amendments of 1972, Walden University is required not to discriminate on the basis of sex in its educational program or activities, and does not do so. This prohibition extends to admissions and employment. For more information on Walden University's Title IX policy, including the application of Title IX, please click here.
APPLY NOW